Off Grid Camping - What Do I Need To Get Set Up?

16 April 2020
Off-grid camping is one of life's true pleasures – as long as you've got the right set-up. If not, we trust you enjoy dehydrated meals, bad coffee, warm beer, and 7pm bed time!
Just joking. Rough camping can be fun, but if you want some of the comforts of home while getting away from it all, you're in the right place. We're showing the set-up in a Toyota Land Cruiser for off-grid getaways. From the outside it looks like a perfectly normal 4x4, but closer inspection reveals some interesting modifications.
The owners live by the mantra "Aussie-made for Aussie conditions" – true blue off-grid campers to the core.
Dual Battery System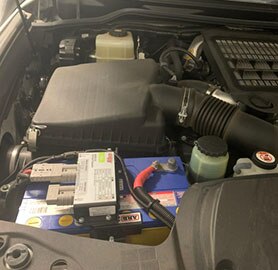 Off-grid vehicles need to be fitted with a Dual Battery System. In this Land Cruiser, this consists of the vehicle's original starter battery (to start the vehicle) and a Century deep cycle battery (to run the appliances). The dual battery system isolates the starter battery to ensure sufficient power to start the car and prevent it from discharging, while the deep cycle battery powers your fridges, lights and other camping gadgets.
Battery Management System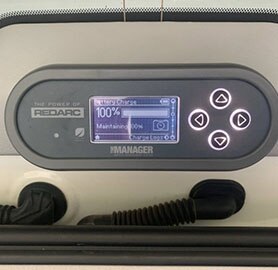 The battery management system is the brains of the set-up. Oops, we know you are, but this is the controller that takes care of things so you don't need to worry. It incorporates AC, DC and solar inputs to charge and maintain auxiliary batteries. This provides the comfort of being anywhere in Australia and simply pressing a button to get information on the current output and information of your vehicle. The battery management system tells you the charge of your batteries, how many days of charge remain in your system, and how much draw you are getting from your solar inputs. For the information geeks, this will probably be your favourite part of the whole set-up.
Solar Regulator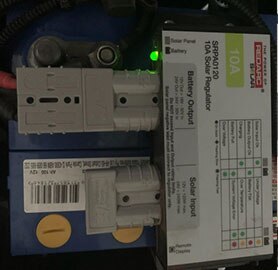 The solar regulator is placed on top of the deep cycle battery. It acts as a go-between to transfer the power generated from 12 volt and 24 volt solar panels or blankets to the battery, ensuring the power supplied is at the right voltage and protecting the battery from any risk of overcharging.
Solar blanket or panel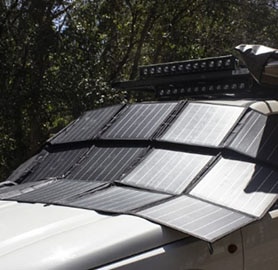 Solar panels and blankets absorb photons (energy from sunlight) and convert it into electricity. Solar panels are usually rigid and can be fixed to the vehicle, or folding and able to stand wherever it captures the best sun. A solar blanket is flexible and can be laid flat or draped over the vehicle for maximum sun exposure. Which you choose is determined by your own preference, the rest of your set-up and your budget.
Charger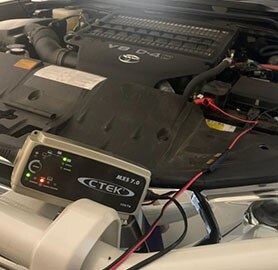 The charger connects to the starter battery, keeping it charged when not in use. It's designed to be left on a car for a long period of time, is fully automatic, and ideal for charging larger batteries such as those in your dual battery set-up. Simply connect your charger to the starting battery, plug the power point into 240 volts and away you go. Give it a full charge for a day or two before heading off on your next adventure.
Inverter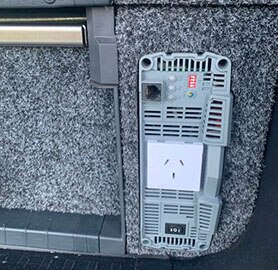 An inverter changes DC (direct current) to AC (alternating current) so you can simply plug in your appliances and use them as though you were at home. You can plug in your kettle and have a cup of coffee, plug in the toasted sandwich maker for a ham and cheese toasties, or put some popcorn in the microwave and watch a movie under the stars! Just like a power point in your kitchen, but mobile!
With Lithium batteries installed, the input and output voltage, frequency, and overall power handling depend on the design of the specific device or circuitry. Check with your Batteryologist for the correct set up and configuration for your specific requirements.
Anderson Plugs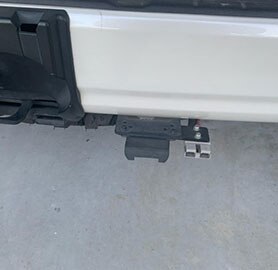 Anderson plugs are sockets at the end of charge circuits that allow charge to flow from battery to battery. In this set-up, the Anderson plug is fitted to the rear of the vehicle and makes it really quick and easy to connect the solar panels / blankets to start receiving the sun's energy to commence recharging the batteries.
This vehicle is set up to perform, and there's no reason you can't achieve something similar. You probably fall into one of three types of would-be off-grid campers:
"I've got the skills and expertise. I'm ready to place my order and wait for Battery World to deliver it all."


"I've got the skills to put it all together but am unsure of the right configuration, power, and all the connecting bits and pieces. I need some expert advice. My local Battery World store will help me work it all out."


"I honestly don't have any 'handy' genes. I need my local Battery World store to do it all for me. I'll drop off the vehicle and collect it once everything is done."

Whichever type you are, stay safe and start planning the best sort of Aussie-made holiday. We'd love to see photos of your set-up or of you and your family enjoying our great outdoors.