Save Money And The Environment

29 May 2020
Community focus over the past couple of months has been on social isolation, but not too long ago everyone was complaining about rising power bills. Nothing has changed on that front; it's just that something more important came along. With lockdown restrictions easing, it's almost certain that attention will turn to saving costs wherever possible.
Did you know that it's possible to run a household off-grid? Even if your home is connected to mains power, you can make significant savings, both for your pocket and the environment, by looking at alternative power sources for at least some of your needs. Something as simple as battery operated fans can save as much as $260 per year in power bills, so when you think about all the savings combined through using battery power, it will be significant.
A simple set-up using solar panels wired in series and connected to a power controller, which is connected in turn to a deep cycle battery and then a power inverter, can run a variety of appliances at a time.
Wired in series: connect the negative on one panel to the positive of the next panel and so on until all panels are connected.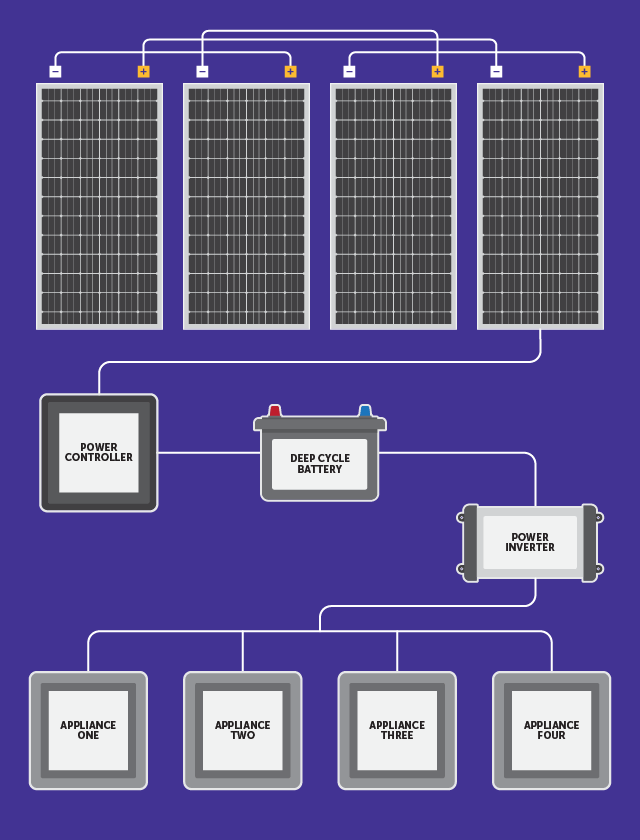 Imagine your home office set-up: at minimum you have your computer, mobile phone, lights, and printer. There may also be headphones, fan or air-con, and depending on where your office is located, maybe a little drinks fridge as well.
To make the set-up truly off-grid, take advantage of your camping equipment and put it to good use year-round. Some companies produce equipment that utilises interchangeable batteries for a range of appliances. Battery-operated fans, lanterns, and radios or sound docks can be used to power your home office set-up. Laptops and mobile phones are battery operated, and can be recharged through the day or overnight.
For many of us, this sort of set-up looks a bit complicated and some expert assistance will be needed. Talk to your local Batteryologist about what you'd like to achieve with this type of set-up. Depending on the appliances you want to run, they can advise on the panels, controller, battery and inverter you need to ensure it all operates reliably and saves you money on your power bills.