Easter Camping and Social Isolation - The Best of Both Worlds

08 April | 2020
The 2020 Easter exodus has come to grinding halt due to the current need for social isolation. Bookings are cancelled, gear stored, and plans have been thrown into disarray, but is this the way it has to be?
Times like these require a bit of creative thinking. What could you do instead?
One of our Battery World families is going camping as planned. Don't worry, they're still in social isolation, but a-camping they will go. (to their backyard of course...)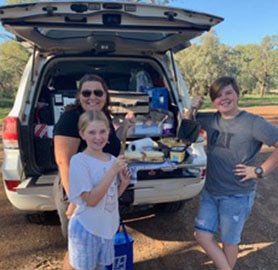 Jaffles for lunch on a previous Easter camping trip
With a fully kitted-out vehicle, off-grid camping is this family's passion. It's the ultimate family getaway: BBQing, sight-seeing, and outback driving adventures provide a chance to connect and enjoy each other's company without the distractions of everyday life. They can head out for weeks at a time, with the only constraint being the need to be within driving distance of a supermarket for a weekly shop. Growing kids need a lot of food to keep them going.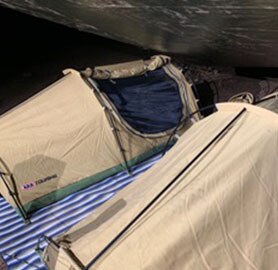 Sleeping in comfort – fancy a swag?
Apart from the original vehicle specifications, their vehicle is fitted with many different products and functions. It was a priority to have Australian-made products to ensure they'd perform well in our often-harsh climate, and to have the right configuration and specifications for their needs. They decided on:
Century Deep cycle battery
REDARC BMS (battery management system)
REDARC glass solar blanket
REDARC Solar Regulator
REDARC lithium batteries
Inverters
240V plug – just to make it easier to use appliances
Microwave
Kettle
Jaffle press
Once the vehicle was ready, this amazing country of ours was ripe for exploration.
So instead of an 800km drive for a 4-day getaway, they're holidaying at home. They'll be sleeping in swags, cooking out of their vehicle, and connecting with each other like every other Easter, but they also get to spend time with their pets and, if the weather is good, enjoy the pool. Cold beverages from the fridge, icecreams in the freezer, and no shops to drive to… What could be a more perfect way to spend a socially isolated holiday break?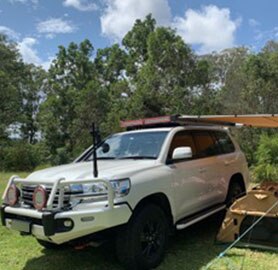 The benefits of backyard camping? No dust or sand!
Off-grid Camping – the technical stuff
Off-grid camping is one of life's true pleasures – as long as you've got the right set-up. If not, it's dehydrated meals and no power.
Along with the OEM starter battery, the vehicle is fitted with a Dual Battery System consisting of the Century Deep Cycle Battery with a REDARC Solar Regulator placed over the top. A Dual Battery System ensures the starter battery is isolated so you have enough power to start the car and prevent it from discharging while the deep cycle battery powers your fridges, lights and other camping gadgets.
The vehicle also has a REDARC Solar Regulator on top of the deep cycle battery. The sun's power can damage your battery through over-charging via a solar panel, so a regulator is essential to control the amount of solar-generated power being fed into the battery.
REDARC's solar regulators act as a go-between to transfer the power generated from 12 volt and 24 volt solar panels to the battery. It ensures the power supplied by your portable solar panels is at the right battery voltage, and protects it from any risk of overcharging. It is really simple and fast to connect your solar set ups, just by connecting through Anderson plugs.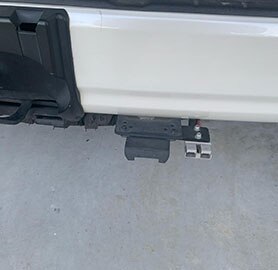 This rear Andersen plug is fitted to connect the solar set up: solar panels / blankets connect here to start receiving the sun's energy to commence the recharging of the systems.
To ensure that you have the right configuration, stay safe and have the correct set up of batteries, Dual battery set ups and solar set ups – speak to your local Batteryologist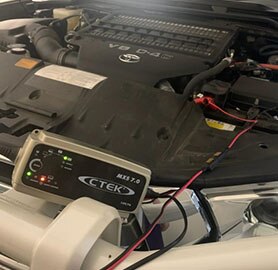 Ctek Charger connected to the starter battery – keeps it charged when not in use.
A battery charger is designed to be left on a car for a long period of time to recharge the starting battery The Ctek charger is fully automatic, essentially 'connect and forget' charging, and is the perfect universal 12 V charger. It is ideal for charging larger batteries such as caravan, RV, boat and car batteries. Simply connect your charger to the starting battery, plug the power point into 240 volts and away you go. Give it a full charge for a day or two.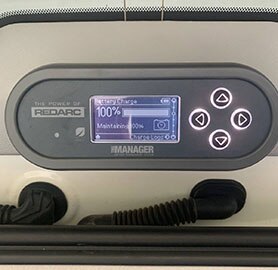 REDARC Battery Management System (BMS).
The Battery management system connects Deep cycle battery to the starter battery to ensure the alternator charge prioritises the starter battery first. This protects the voltage of the starter battery so you can start your vehicle every single time – even when running a heavy load on the auxiliary. Battery Management Systems are the brains of the set-up:. they manage the output, charging and discharging, and provide notifications on the status of the battery pack. They also provide critical safeguards to protect the batteries from damage.
With the REDARC battery management system it is designed to charge and maintain auxiliary batteries by incorporating AC, DC and solar inputs, ideal for recreational vehicles, caravans, and camper trailers with multiple battery banks. This provides the comfort of being anywhere in Australia to know at any point in time by the press of a button – the current output and information of your vehicle. The BMS tells you the charge % of your batteries, how many days of charge left in your system, and how much draw you are getting from your solar inputs,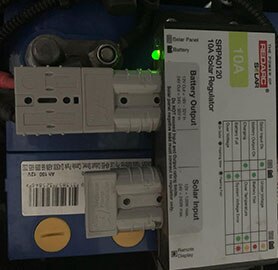 Solar regulator – prevents solar blanket from providing too much power and overcharging the deep cycle battery
With Lithium batteries installed …….. An inverter is an electronic device that changes direct current (DC) into alternating current (AC). The input voltage, output voltage, frequency and overall power handling depend on the design of the specific device or circuitry. The main function of an inverter is to change direct current (DC) to alternating current (AC) whilst you are away from home… You can plug in your kettle and have a cup of coffee, plug in the toasted sandwich maker for a ham and cheese toasties or put some popcorn in the microwave and watch a movie under the stars!. Just like a power point in your kitchen but mobile!! Check with your Batteryologist for the correct set up and configuration for your specific requirements.